Hi, I really need some help in order to configure all.
I configured openvpn server and client but I think something have to be changed
Before my actual configuration I write here my final result goal:
I want to have openvpn server and client (pia) working at the same time but the client must be used only for a specific device on lan so:
Router 10.0.0.1 and take internet from wan 192.168.1.50
All the devices is under the router so 10.0.0.x and only for some I want to use the openvpn client (pia), actually only for my nas that is under 10.0.0.100
For the openvpn server I followed exactly this guide from openwrt docs, is under tun0 and works.
For openvpn client there's some difficult here! I found this official guide from pia, seems to work but this guide does not create any extra firewall, just put all the wan under pia (is my supposition, I'm not expert so please tell me if I say wrong things!)
From here I really need help!
I installed the pbr package from stangri but I never worked with this! I came from dd-wrt where is quite simple do this configuration, just put pull-filter ignore redirect-gateway in the client configuration and then apply the pbr over the devices that I want to be under vpn.
Here I can't go further, I don't know how to set up the extra firewall zone, if I really need one and I don't know how to configure pbr.
I have this interfaces, where PIA_VPN is only one my test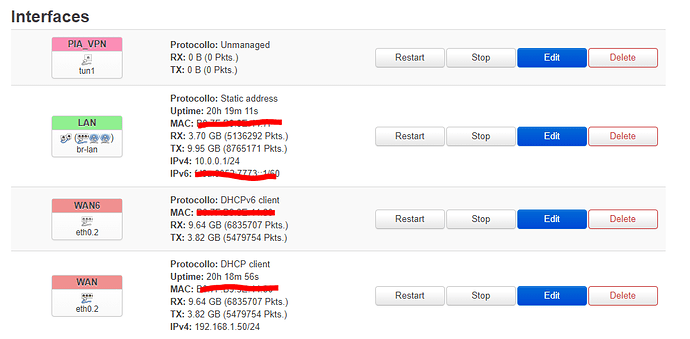 Here the firewall test rules created inside PIA_VPN interface

Maybe I need to create one interface in order to make a forward like PIA_FIREWALL => NAS?
I really don't know anything about this, is all new for me, would be good learn some
Is possible to have some help in order to configure this little system?
J