|Model|TP-Link Deco S4 v2|
|Architecture|Qualcomm Atheros QCA956X ver 1 rev 0|
|Target Platform|ath79/generic|
|Firmware Version|OpenWrt SNAPSHOT r22599-1416b9bbe9 / LuCI Master git-23.118.79121-6fb185f|
I have a TP-Link Deco S4 that has openwrt installed and using it as an AP.
The 5ghz is on 192.168.0.x in the main network. I want to set the 2.4ghz as a guest network separate from the main network (192.168.3.x).
I followed the instructions here: https://openwrt.org/docs/guide-user/network/wifi/guestwifi/configuration_webinterface
I can't even connect to the 2.4ghz network. What am I supposed to change Device to? Right now it's unspecified.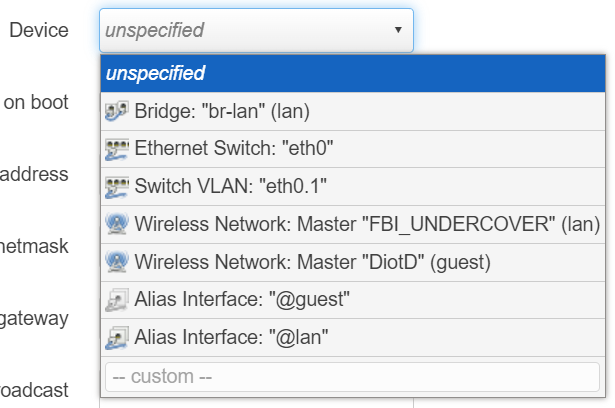 I know I can also do this through VLANs, but this seemed easier.