Hi everybody,
fist of all, thanks for helping out! With the available documentation I usually get everything up and running on OpenWRT but now I'm lost and I appreciate for you help.
I want to extend my main OpenWRT router with a OpenWRT raspberry extension to bring the network to the second floor via RJ45 cable.
My network is separated to a standard br-lan plus a Guest-Wifi which is running on the main router already. Now I want to extend this two networks to the raspy by separating the br-lan and the Guest-Wifi via VLAN.
So I activated the VLAN option on both devices, with belows scheme of switch configuration.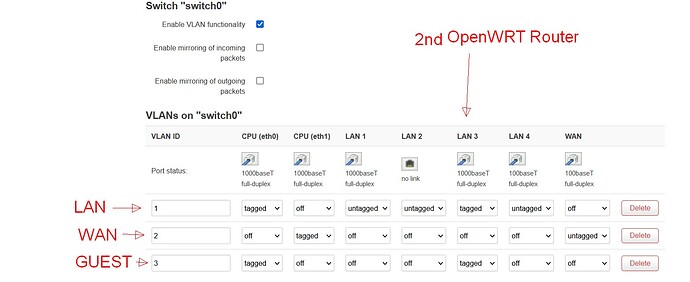 As you can see, the VLAN1 is my br-lan, VLAN3 is my Guest-Wifi on the second floor.
Basically the br-lan acts normal with a successful connection between first and second floor, but the Guest-Wifi in the second floor has no internet connection.
Ive read somewhere, that I have to bridge the Guest-Wifi on the main router with the VLAN3 (Guest wifi on the second floor). But whenever I do this, the internet connection in the Guest-Wifi on both routers is totally lost (My connecting devices get weird IPs so it seems that the DHCP is not working when I bridge the two networks. But since I deactivated all DHCP server stuff on the Raspberry on the second floor, I have no idea what is the root cause).
Below is a cat of my network configuration.
The marked config lines is when I add the bridge.
I hope somebody has an idea what I did wrong?
Thank you!
Mario
Main Switch:
config interface 'loopback'
        option ifname 'lo'
        option proto 'static'
        option ipaddr '127.0.0.1'
        option netmask '255.0.0.0'

config globals 'globals'
        option ula_prefix 'x:x:x::/48'

config interface 'lan'
        option type 'bridge'
        option proto 'static'
        option ipaddr 'x.x.x.x'
        option netmask '255.255.255.0'
        option ip6assign '60'
        option ifname 'eth0.1'

config interface 'wan'
        option ifname 'eth1.2'
        option proto 'dhcp'
        option peerdns '0'
        list dns '1.1.1.3'
        list dns '1.0.0.3'

config interface 'wan6'
        option ifname 'eth1.2'
        option proto 'dhcpv6'
        option reqprefix 'auto'
        option reqaddress 'try'
        option peerdns '0'
        list dns 'x:x:x::x'
        list dns 'x:x:x::x'

config switch
        option name 'switch0'
        option reset '1'
        option enable_vlan '1'

config switch_vlan
        option device 'switch0'
        option vlan '1'
        option vid '1'
        option ports '5t 3 2 1t 0'

config interface 'Guest'
        option proto 'static'
        option ipaddr 'x.x.x.x'
        option netmask '255.255.255.0'
>         option type 'bridge'
>         option ifname 'eth0.3'

config switch_vlan
        option device 'switch0'
        option vlan '2'
        option vid '2'
        option ports '6t 4'

config switch_vlan
        option device 'switch0'
        option vlan '3'
        option vid '3'
        option ports '5t 1t'

Raspberry Switch on second floor:
config interface 'loopback'
        option device 'lo'
        option proto 'static'
        option ipaddr '127.0.0.1'
        option netmask '255.0.0.0'

config globals 'globals'
        option ula_prefix 'x:x:x::/48'

config device
        option name 'br-lan'
        option type 'bridge'
        list ports 'eth0'
        list ports 'eth0.1'

config interface 'lan'
        option device 'br-lan'
        option proto 'static'
        option netmask '255.255.255.0'
        option ip6assign '60'
        option ipaddr 'x.x.x.x'
        option gateway 'x.x.x.x'
        list dns '1.1.1.1'

config interface 'guest'
        option proto 'none'
        option type 'bridge'
        option device 'br-guest.3'

config device
        option name 'br-guest'
        option type 'bridge'
        list ports 'eth0.3'

config device
        option type '8021q'
        option ifname 'br-guest'
        option vid '3'
        option name 'br-guest.3'