Hello,
I have a GL.iNet GL-AR750 "Creta" which I have been trying to use up to date OpenWrt on.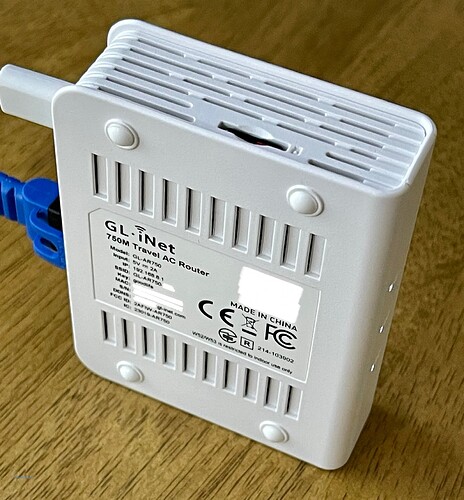 I have attempted installing both 22.03.2 and the latest snapshot .bin files, i.e.:
https://downloads.openwrt.org/releases/22.03.2/targets/ath79/generic/openwrt-22.03.2-ath79-generic-glinet_gl-ar750-squashfs-sysupgrade.bin
https://downloads.openwrt.org/snapshots/targets/ath79/generic/openwrt-ath79-generic-glinet_gl-ar750-squashfs-sysupgrade.bin
I started by upgrading to the latest GL.iNet firmware (3.216) and installing LuCI. I first tried installing 22.03.2 via LuCI and keeping the settings (just barebones fresh install). That worked and I went about testing it. I found that trying to run channel scans causes WiFi clients to drop most of the time. It seems a bit more reliable if you are connected to 2.4G and try to scan on 5G or vice versa, but that's still not a guarantee. I also found that the LAN ports don't seem to work.
So I went about trying various permutations of installs, e.g. using either 22.03.2 or the latest snapshot build and installing either via u-boot interface or LuCI interface, and starting with or without migrating the settings. I found that there's no notable differences, other than that if I don't migrate the settings it seems to install a VERY barebones OpenWrt, which doesn't include any device specific settings (e.g. knowing what the LEDs are for) and doesn't include any http server or LuCI.
Are there any other users with the GL-AR750 Creta successfully running the latest OpenWrt with full functionality reliably?