Hello All --
I have set up my OpenWRT router (a Turris Omnia) with a /29 public network and several VLANs and DMZs.There are two servers behind this and my home network LAN. Unfortunately, my firewall is a mess. This is the basic configuration: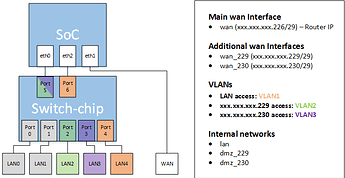 I got to where I am by following these tutorials and examples:
Really there are two problems with the firewall, depending on what redirects I turn on.
The multiple-IPs configuration I got from the OpenWRT documentation specifies a DNAT block like this for each added WAN interface:
config redirect
option name 'dnat_230'
option src_dip 'xxx.xxx.xxx.230'
option proto 'all'
option target 'DNAT'
option dest_ip '192.168.3.3'
option src 'wan_230'
option dest 'dmz_230'
However, if I use this method, I get no firewalling at all -- while the server hosts are are correctly masqueraraded, they are also completely exposed. I don't want this.
So, alternatively, I tried a bunch of service-specific redirects, like this:
config redirect
option target 'DNAT'
option proto 'tcp'
option src_dport '22'
option dest_port '22'
option name 'ssh-hoh'
option dest_ip '192.168.3.3'
option dest 'dmz_230'
option src 'wan'
option enabled '0'
But when I do that, the IPs are not distinguished correctly, and one of the IPs grabs all the traffic meant for the other one if, for instance, they both need SSH to work.
I have posted my complete /etc/config/network and /etc/config/firewall files here:
Any help would be much appreciated.
Thanks,
David Robinson