Hi there,
I hope someone could direct me, I have a problem with Openwrt on WRT1200AC. for a half year it was working perfectly, now it has problem described below. I have reset the router, reconfigured it manually from scratch on newer Openwrt version, same symptoms.
LUCI is extremely laggy, there are many timeouts on most of the page loads (attached). Sometimes new ssh session cannot be started (there is no password prompt and ssh client times out), but existing ssh session is working fine - and clients do not see any problem, I have no problems reaching 800Mbps downloads, no ping has been lost.
problem occurs on LAN and wifi, no difference in that
I was watching top output during the lags, there is plenty of memory free, cpu is at 99% idle, I have literally no idea what is going on. It usually times out on ubus or rpc timeouts but that's no rule, it hanged also on cgi-exec
What I have configured is here
dnsmasq forwarded to 127.0.0.1#5453 (stubby)
/etc/config/network wan section contains option dns '127.0.0.1'
vpn client
vpn server
vpn-policy-routing configured
adblock
note that turning of any/all of these things above had no effect on the behaviour
I'm not an expert in networking but managed to get all working half year ago. I have never experienced this before on this router.
Is there anything to dig into? I believe this is not the problem with uhttpd, this is a bit deeper imho, but I don't know where to look at. Any logging that could be turned on?
could anybody give me a direction please?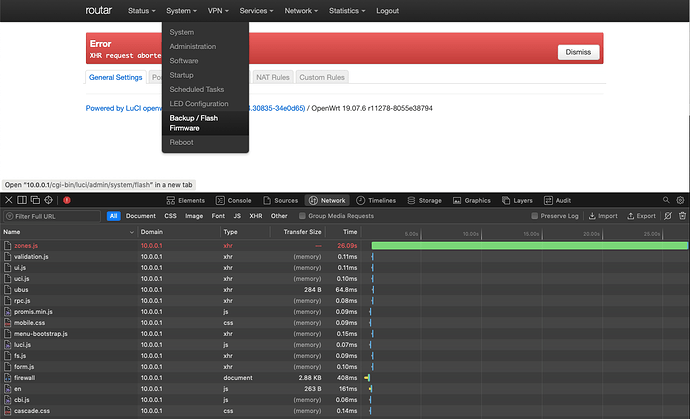 ![Screenshot 2021-02-18 at 09.01.33|677x500]