Hi,
I have a TP-Link Archer MR600 LTE rooter (no WDS nor openwrt for it
), and and two Xiaomi 4A Gigabit edition. I want to the the A4's in two slightly different configurations :
One will be linked with an ethernet cable to the MR600, possibily via the WAN port so I can still have two ports available, and will give net access to a computer (plus a printer if two ports are available), and via wifi to phones, laptops, ... in the office
The other one will work the same but would be connected to the MR600 via wifi. It still needs to be a wifi repeater / range extender because most of my laptops can barely connect to the MR600 in this area (garden)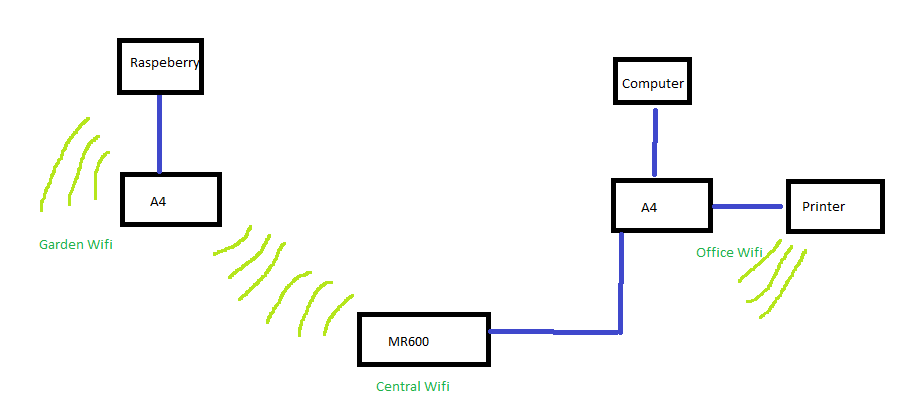 I would prefer to have everything in the same subnet so everybody can easily access the printer but this is not mandatory.
I tried to follow Wi-Fi extender / repeater / bridge configuration, but IIUC:
on the ethernet side, relayd will just allow me to have same subnet and makes me loose IPV6 (which is not mandatory) compared to default behaviour ?
on the wifi side, it does not repeat the signal but only allow replacing the "wan" cable with a wifi link ?
I'm a bit lost about what I should do. Do I just need to set one client wifi client interface on one side, one wifi AP interface on the other, bridge everything, and use a cable between WAN port and the AR600 ?
Is there something I can read to understand all this better in 1 - 2 hours
?