Hello, I'm new to OpenWrt and need some help with the configuration.
I have a main router which serves the following networks on all (lan) ports:
10.0.10.0/24 -> management network, no vlan -> all network devices (switches, ap's...) are accessable here
10.0.20.0/24 -> main network, vlan 20 -> laptops, tablets... (wired + wireless)
10.0.30.0/24 -> guest network, vlan 30 -> wireless clients only
10.0.40.0/24 -> iot network, vlan 40 -> isolated iot clients (wired + wireless)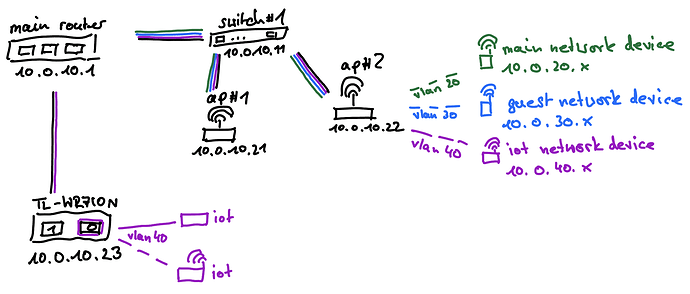 Now i want to add my TL-WR710N with openwrt_22.03.0 as dumb access point, only for iot devices. The following is configured:
Port "eth1 (WAN/LAN)" is configured as DHCP client and gets an 10.0.10.* address from management network
I need some help with the following configuration:
Ports "eth0 (LAN)" and wifi (radio0.*) shall be bridged and every connected device shall be on the iot network with vlan 40.
All connected iot devices shall get their ip via DHCP from the main router via vlan 40 network
the last point is the tricky one, I don't really know how to configure.