I can't seem to figure out how to implement a solution to what I want.
In short, all clients connected to the WiFi should have normal access to the 192.168.0.X network. Currently Wifi clients can access and ping 192.168.0.200 device (which is what I want).
But I want to STOP wifi clients from being able to access any device on the 192.168.2.X network. If I connect my laptop to the wifi and set a static IP address ie 192.168.2.20, I am able to ping 192.168.2.200. I do not want this to be the case. I want all traffic from any WiFi client to any 192.168.2.X address to be dropped / rejected.
I have a basic network diagram shown below.
The Dump AP is running OpenWRT on an Archer A6 (details of version etc are on the bottom of this post)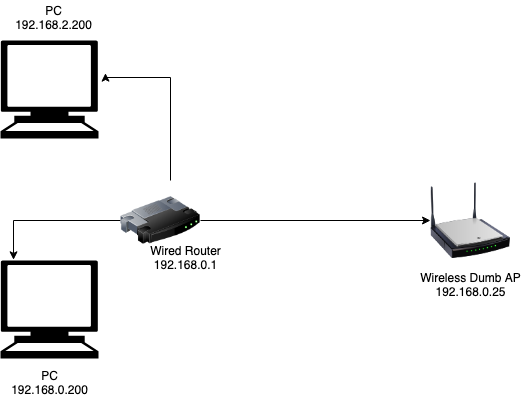 Screenshots of my current configuration can be found: https://imgur.com/a/zhYi8IA
(Forum doesn't allow me to post more than 1 image)
I feel like I must be missing something very small or criticial as I can't seem to get this to work!
Device is a TP-Link Archer A6
Powered by LuCI Master (git-20.186.79919-0c47989)/ OpenWrt SNAPSHOT r13869-ed087cba8a