Great wiki! Followed it to the letter and got my Laserjet 1018 to print successfully from my Asus router w/ OpenWRT. (and the scripty goodness ensures the printer works as soon as it turns on. A master stroke!)
One thing that I haven't been able to get to work (and it's on the Windows side of things) is the manual double-sided printing.
There is an "aid" in the LJ1018 print driver: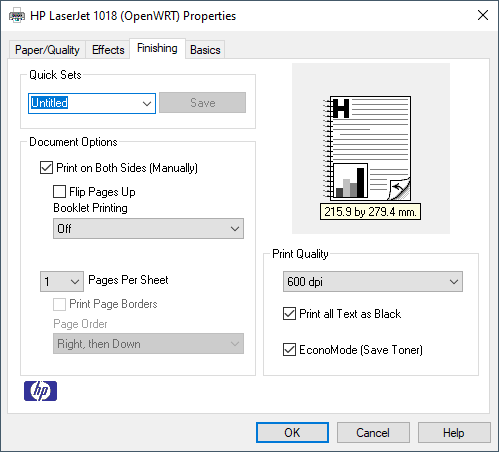 When you select Print on Both Sides (Manually) then send a document, the odd pages are printed in descending order, then a popup appears on the Windows machine telling you to reload the pages. After you confirm, the even pages are printed in ascending order. This option works fine on my old (no longer working) TP-Link print server and of course when the printer is directly hooked up to the Windows machine.
While I could do this in my head whenever I print, I tend to get my brain in a pretzel and I prefer the print driver aid. For some reason, it won't work.
I'm hoping someone (possibly the author of the wiki, @systemcrash, since said author uses a LJ1018 too) can help. Thanks in advance!