Hello,
I want to setup a home network that fulfills the following:
Puts mi IOT devices (at least the ones I don't control the firmware) on a separate VLAN
My IOT devices and my home assistant VM can communicate
Home assistant is also reachable from the LAN network
Allows me deep packet inspection and network statistics
Uses my pihole instance as DHCP and DNS on my local LAN
So with that in mind I think about using my archer C7 openwrt as router and managed switch for VLANs, a VM on my main NAS running pfsense for deep packet inspection and nice network dashboards and use my ISP router as upstream of everything.
Here is the network diagram I drawn: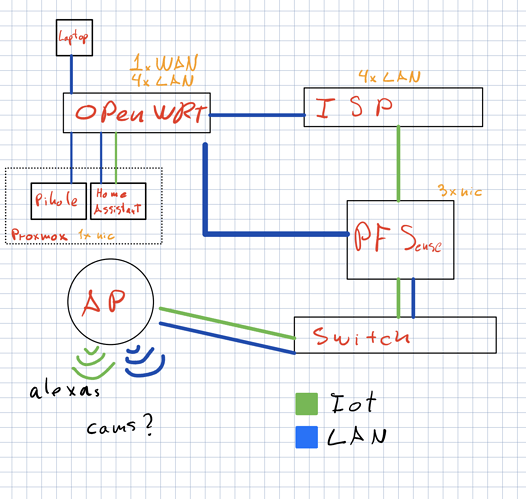 Not sure if the wiring makes any sense.
The first time I tried to setup pfsense I was not sure what to use each interface for, and how to define the third one.
First time I activated pfsense my local DNS (pihole) stopped resolving. It was working for local queries, but any upstream query was failing, and I had to reboot the VM and turn off pfsense to make it work again.
I don't know how to setup pfsense and openwrt to fulfill my requirements, any guidance will be very appreciated.