Hi all,
I know this might be an easy task for anyone who has lots of experience using the SWITCH feature of OpenWRT, however since I don't want to mess up my home network and have my family after me as to why "the internet is down" so I figured I'd ask for some help first
Anyways, as the subject suggests, I'd like to divide my network based on what port they are connected to on my TP-Link Archer C7 v2 running OpenWRT 19.07.
Basically I'd like to be able to monitor the traffic incoming/outgoing on each port using the Statistics component of OpenWRT.
Here's a graphic of what each port does right now: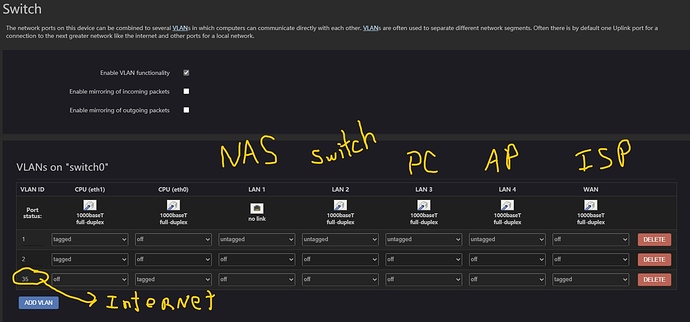 Here's how my /etc/config/network file looks like right now.
config interface 'loopback'
        option ifname 'lo'
        option proto 'static'
        option ipaddr '127.0.0.1'
        option netmask '255.0.0.0'

config globals 'globals'
        option ula_prefix 'fd07:f443:a329::/48'

config interface 'lan'
        option type 'bridge'
        option ifname 'eth1.1'
        option proto 'static'
        option netmask '255.255.255.0'
        option ip6assign '60'
        option ipaddr '192.168.76.1'

config interface 'wan'
        option proto 'pppoe'
        option password 'XXXXXX'
        option username 'XXXXXX'
        option ipv6 '0'
        option ifname 'eth0.35'
        option peerdns '0'
        list dns '8.8.8.8'
        list dns '1.1.1.1'
        list dns '9.9.9.9'

config interface 'wan6'
        option ifname 'eth0.2'
        option proto 'dhcpv6'

config switch
        option name 'switch0'
        option reset '1'
        option enable_vlan '1'

config switch_vlan
        option device 'switch0'
        option vlan '1'
        option ports '0t 2 3 4 5'
        option vid '1'

config switch_vlan
        option device 'switch0'
        option vlan '2'
        option ports '0t'
        option vid '2'

config switch_vlan
        option device 'switch0'
        option vlan '3'
        option vid '35'
        option ports '6t 1t'

Any help would greatly be appreciated
thanks