I want my OpenWRT router to act as a DHCP server for LAN clients. When I have my computer connected to the LAN, I don't seem to be getting a IPv4 address. But I seem to have an IPv6 address? I'm unable to access the OpenWRT router via the router's IP address <192.168.3.4>, because my PC isn't given an IPv4 address.
If I set my PC's IP address to a static address like <192.168.3.x>, then I'm able to access the OpenWRT router via 192.168.3.4.
Even when I'm able to access the router's web UI, I'm still unable to access the internet. The OpenWRT router is behind another router on a separate subnet. I'm unable to ping this upper level router, and can't get out to the internet that this upper level router is providing. I know this upper router is working because if I plug directly into its lan port I get IP address and can get out.
Picture of config:
No IPv4 address:


Interfaces: Looks like OpenWRT router has a WAN connection right? And the LAN interface looks good?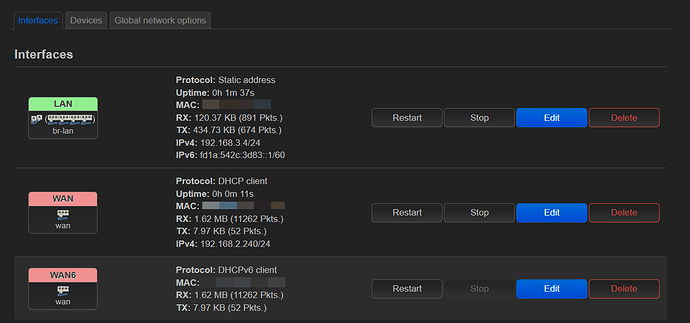 Detailed LAN DHCP setting: Does this look ok?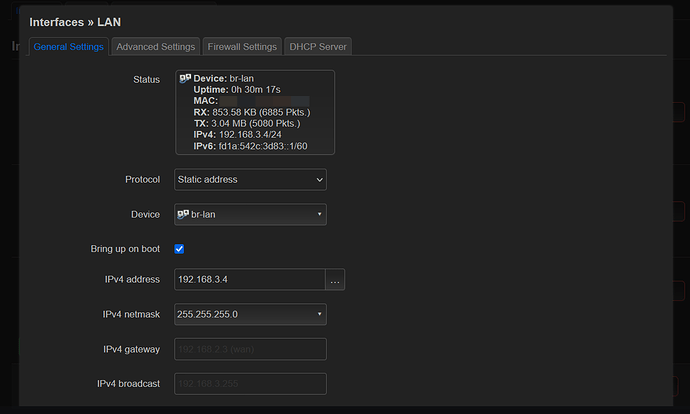 I'm unfamiliar with IPv6, and I wonder if that's what is messing me up. Should OpenWRT be assigning both an IPv6 and IPv4 via DHCP to my PC?