Main Objective: Remotely administrate a IP video surveillance system and stream video.
Networking objective: Link the networks between two physical locations
Ethernet cabling is unfortunately not an option. Cost prohibitive due to locations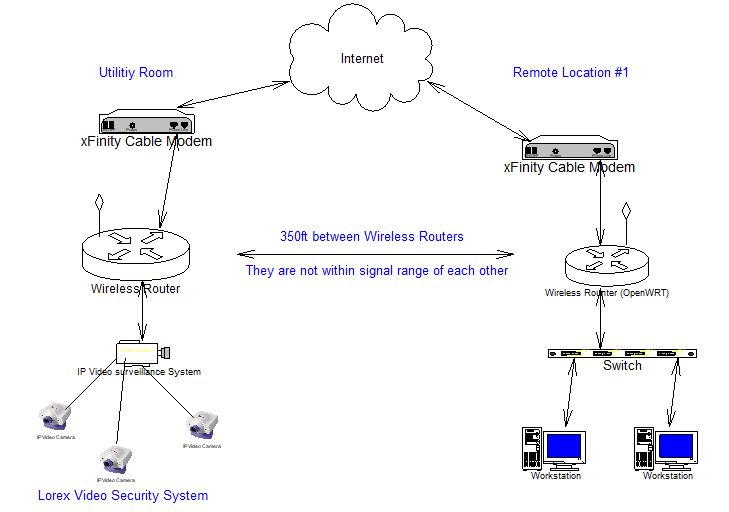 The diagram is the current hardware setup for the condominium complex where I live. There is no remote connection established between the two locations at this time. The locations are in two buildings 350 feet apart. Looking for recommendations on how best to achieve objectives.
The ideal would be create a wireless network (or bridge) between the wireless routers because that would eliminate the internet service in the utility room that only needs the internet service for the purpose of setting up access to the video surveillance system. Mounting external directional WiFi antennas is an available option if a strong WiFi connection can be established.
The other option I am aware of is to create a VPN network (Windows or OpenWRT) and link the two locations together. The concern with VPN using xFinity is that the uploads speeds are limited to about 10Mbps, which would limit video streaming to fairly low quality. High quality streaming is not a requirement, but it would be nice. Most of cameras video are pretty static images 90% of the time, so required bandwidth should not be too bad.
Administration of the video surveillance system is handled through a browser that connects to the surveillance system.
All advice is welcome