This is my 2nd learning project with OpenWrt. It should be a straightforward process to install & configure a Wireguard client with Luci. I've done it before on an Asus router.
To my embarassement I could not get it working on a Raspberry Pi.
The reason I want to have a wireguard client on a Pi 4B is beefier compute power. I noticed that the Asus AC51U router is laggier than a wireguard client app on an Nvidia Shield for streaming.
The Pi is connected to a USB LAN port [eth1 - WAN] to the main internet router.
And the built in LAN port [eth0 - LAN] to my PC.
WAN interface is a simple dhcp client.
LAN interface has it's own subnet [192.168.1.1] and dhcp server
Above is all standard stuff and I have an internet connection on my PC from the Pi.
The scary part comes next.
The first time I created a Wireguard VPN interface for the WG client and assigned it to the firewall zones, it worked flawlessly. The tunnel is created. And ipleak.net shows my destination IP.
However after reboot or deleting and creating the WG interface, something strange happens.
I have internet connection, the WG client interface has connection with the server, however the traffic does not flow over the tunnel. Only the keep alive pings flows over the tunnel. I've performed a reset and redo the same steps to create wan and wg interface to no avail.
Any help is appreciated.
Here below some details.
Interfaces: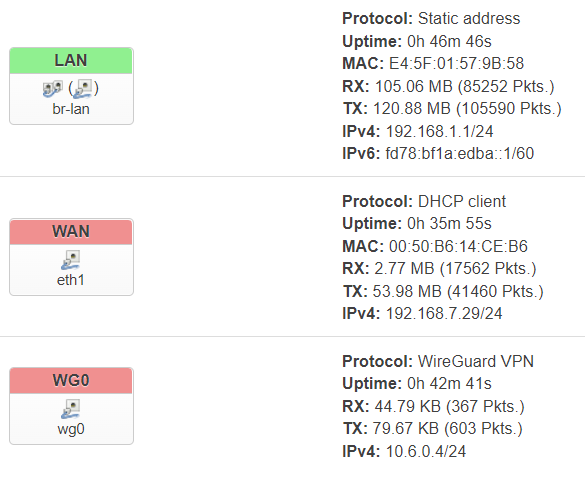 Firewall zones:


Wireguard client config:
config interface 'wg0'
        option proto 'wireguard'
        option private_key 'xxx'
        list addresses '10.6.0.4/24'
        option peerdns '0'
        list dns '10.6.0.1'

config wireguard_wg0
        option public_key 'xxx'
        option preshared_key 'xxx'
        list allowed_ips '0.0.0.0/0'
        option endpoint_host 'xxx'
        option endpoint_port '51820'
        option route_allowed_ips '1'
        option persistent_keepalive '25'