Bless you gentleman,
I've tried many different settings for SQM to get rid of bufferbloat.
Device: Xiaomi mi a4 gigabit using OpenWRT 21.02.3(Released couple days ago)
Wireguard always on (wireguard client).
MTU is left as wireguard's default 1420 on Wireguard interface.
ISP DL speed 50 mbps - Upload 5 mbps
I guess I have some kind of fiber connection(?), got a very small ONT device connected to my router. It's PPPOE.
Normally I have 100 ms latency to the wireguard server. 130-150 ms to websites.
My latency skyrockets +500 +1-2k under load.
Things I tried for SQM Setup
Download speed (kbit/s) (ingress): 40k, 42,5k
Upload speed (kbit/s) (egress): 4k, 4,25k
piece of cake
Link Layer Adaptation: None
Link Layer Adaptation: Ethernet with overhead
Per Packet Overhead: 44, 84, 104, 124 (also some other values)
Advanced strings (for both ingress and egress): nat, ack-filter, oceanic, satellite, mpu 64, mpu 84
Nothing I did yielded me any better results than keeping SQM off. What gives!?
Test Results: 720P webrtc test for 35 secs (packetlosstest.com)
Without SQM

With SQM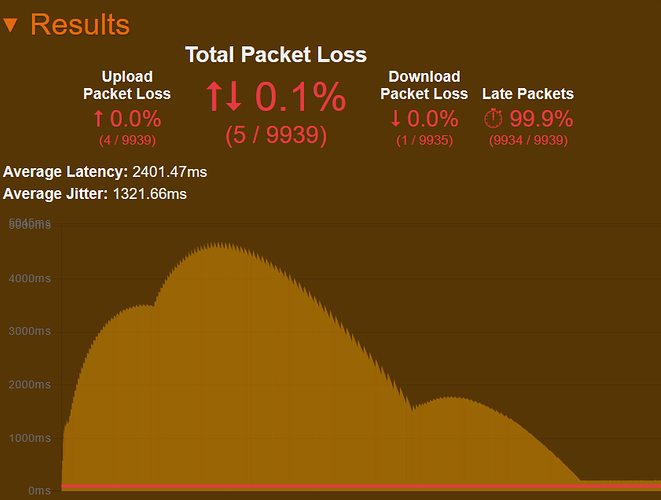 See average latency and jitter increasing with SQM on! The best SQM configuration gave me only close values to SQM off...