Hi, I've just started using OpenWrt a few days ago. I'm very new to this so please correct me if I'm misunderstanding something or doing something very wrong. I have an LTE router provided by my ISP which works fine but I'd like more control over my network (stock firmware sucks) and OpenWrt isn't supported on my ISP-provided router. I decided to hook up a Raspberry Pi 4 with OpenWrt to the router using an Ethernet cable. The Pi would get an internet connection from the ISP router via Ethernet and broadcast it as a wireless network. This is what I have so far (configuring using LuCi). (10.0.0.0/24 is the WAN subnet, 192.168.1.0/24 is the LAN subnet)
Interfaces: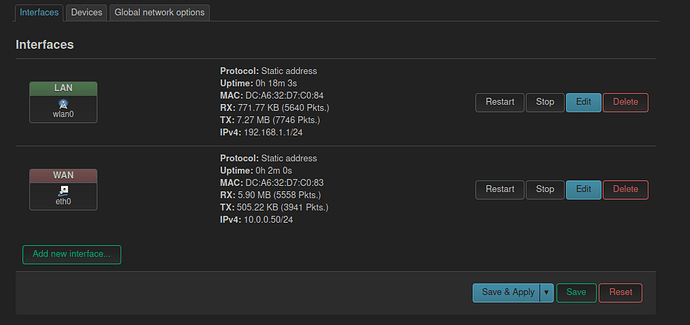 The Pi gets the internet connection from eth0 (ISP router) (WAN) assigning itself a static IP and also assigns itself a static IP address on wlan0 (LAN) with a DHCP server (it's master on wlan0). So from what I understand, it should provide an internet connection to wlan0, from eth0, but I honestly have no idea what I'm doing and I'm kind of stumped
It works just fine when I change WAN's (eth0) protocol to DHCP client instead of Static address.
(it works okay with the interfaces configured like that, there is internet access for clients connected to the OpenWrt wireless network. I could use this, but I'd like for the Pi to have a static address on the WAN ISP router subnet)
Thanks!