I've been tasked with setting up a rather unorthodox network structure and I'd like to know if it's possible and, if so, how to configure it properly. The requirements are as such:
There must be two LANs: one for computer base stations and one for several robotic components that make up a single robot.
These two LANs must use the same IP range: 192.168.200.0-192.168.200.255 a.k.a 192.168.200.0/24
These LANs are to be set up using Nanopi R4S Mini Portable Travel Routers, which will be mounted on the robot.
A computer base station should not be able to directly communicate to a robotic component, it should have to use the defined port-forwarding scheme.
Multiple robots must be able to be active at one time (a.k.a. multiple routers with these two LAN definitions must be active, only difference being the router's IP on the base station LAN)
Here is a diagram of the desired setup: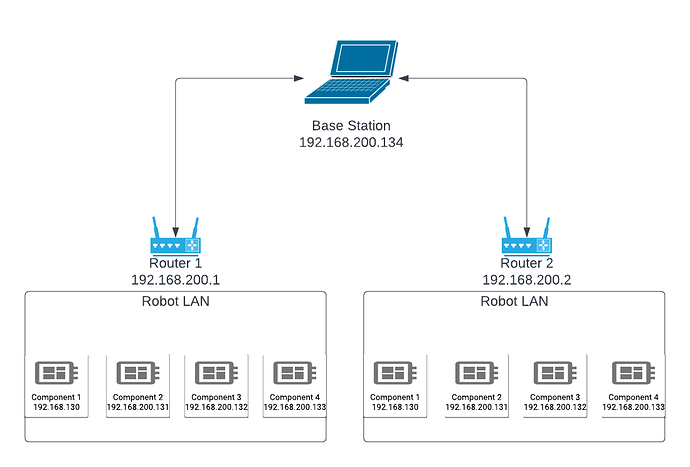 I've attempted simply setting up two LAN's (base station LAN IP: 192.168.200.1, Robot LAN IP: 192.168.200.129), with one physical port assigned to each, but I am unable to ping any robotic components while ssh'd into the router, unless I assign a different netmask to each of the LANs.