Interrrrresting. Berrry intuurrrwesting.
Just tested here, and hardwired got A+'s: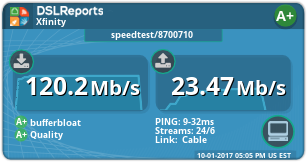 Wireless (2x2 client on 5Ghz channel 36) was a little lower. But I have a few things going on right now at home:


How close to the wire to you set your caps? I am provisioned 125/25, and I am set to 124000 and 24000 in cake. As well I use my own linksys modem, not xinfity provided. Little guy does a pretty good and speedy job with no overhead.
And I just test downloaded on my side, and it went pretty quick. I am wondering is a little reboot on your client might do you some good. Or perhaps maybe you have a little lag in your ISP line (I think you are ATT iirc). Maybe test later tonight when the world quiets down. See if you get back to A's.....