Hi all
I've recently joined the world of openwrt and after some intial challenges thought I was getting on top of it.
Seems that was a bit premature (!) as have hit a major problem trying to get the browsers to accept the https certificates. I spent most of yesterday working on this and have now gone backwards and broken the https part of luci completely it seems – I can now only access it on "http://...."
I've be using this guide - https://openwrt.org/docs/guide-user/luci/getting_rid_of_luci_https_certificate_warnings
Initially I input it DNS.1 under alt_names of the config file exactly as in the guide and have realized that the value there of "luci.openwrt" is wrong for my install and have changed it to "openwrt.lan".
Anyway despite doing that I initially having a common name ssl error and then a subject alt names error. I didn't manage to get it working and took more radical steps like restarting services, uninstalling /reinstalling the uhttpd service , luci-app-, luci-ssl-openssl, (maybe also libopenssl-conf, libopenssl1.1) and rebooting numerous times I now seem to have broken https access to the luci interface completely. Ive also clicked the "Remove old certificate and key " and "Remove configuration for certificate and key " buttons a couple of times and regenerated the key and certificate a few times.
These are my settings under uhttpd (I note that "Redirect all HTTP to HTTPS" is checked)!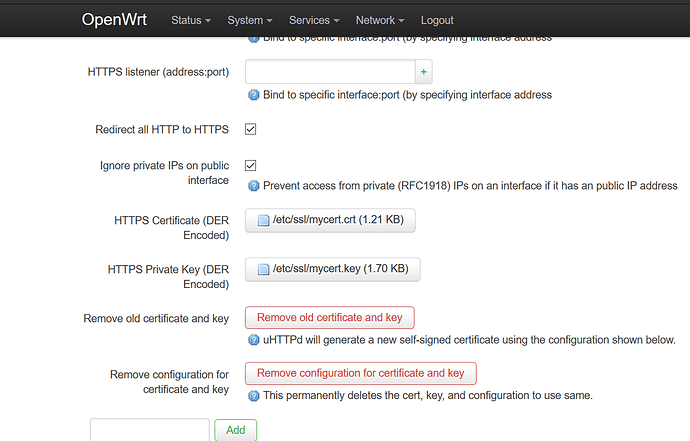 I've tried following step 2 of this guide to get it working again to no avail:
https://openwrt.org/docs/guide-user/luci/luci.essentials
So questions/help required:
Is there a series of steps I can take to get https working again?

Once 1) is fixed I'd like to get the certificates being accepted by all browsers per the guide.

Unrelated to this but I noticed that when I update the software packages list in luci they are all coming down in http not https – I'm thinking this is exposed to the recently announced security flaw which I understood was patched in this version of openwrt – have I missed something?
Running OpenWrt 19.07.2
--
Steve