Hi,
I'm trying to setup what I think is a simple architecture but I'm hitting some walls with the vlan setup.
So, first, what I'm trying to achieve is this:
I've a cable modem that I've to put in bridge mode, this is in a isolated room of my house, with some other peripherals next to it. (ROOM A)
pretty far away, I've to put my wrt1900ac, with a big bunch of other computers and peripheral. (ROOM B)
There is a single cable going through ROOM A and B (and no easy way to have another one)
What I'm trying is this:

Room A:
modem -> managed switch -> untagged vlan (i.e 20)
peripherals -> managed switch -> untagged vlan (1)
managed switch -> 1 port tagged 20 and 1 -> ROOM B
Room B:
wrt1900ac -> a port (Wan ? Lan ?) Tagged 20 and 1
all other ports untagged 1 (for not managed switches and all other computers)
I managed to setup the switch (I think)
My problem is, in luci, when trying to setup something like this (or any variation without the wan in the switch and moving the trunk on one of the lan port), I'm not able anymore to communicate with router (even with wifi, that I did not even touched), and the configuration rolls back (thanks)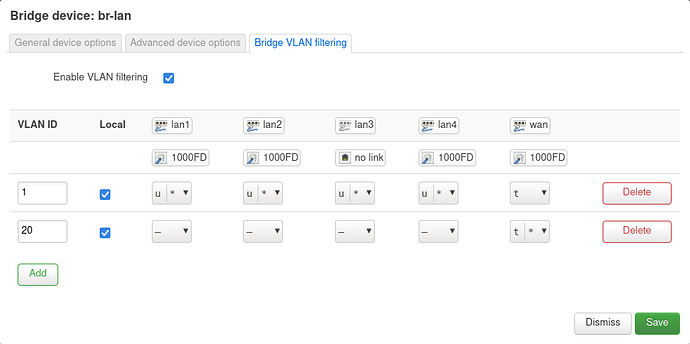 I know that if this works (at the vlan level, at least), I'll have to do something about he firewall zones (assign wan zone to the vlan20), but, one problem after the other

So I've two questions:
Is that the (best) way to achieve what I want (without having to buy other hardware or destroy walls) ?
What am I doing wrong with my unlucky attempts ?
Thanks a lot !