Hi,
can you please help me debug this? It's occuring since upgrading to 21.02.0-rc.3 (from 19.07.7). It makes the unit B, connected and manage-able only through batman-adv tunnel over wireless, sporadically loose its ping and WebIF access for minutes. But in-between, some packets go through so our monitoring system does not detect the "short" outages. I noticed that when the above kernel message came in, the connection problems started to occur.
unit A: LAN uplink, TP-Link Archer C7v2 running OpenWrt 21.02.0-rc.3
unit B: WiFi uplink through BATMAN-ADV, TP-Link Archer C7v5 running OpenWrt 21.02.0-rc.3
I've examined network config again but found no loops or other suspicious things in it.
Thanks for your help in advance.
Unit B - network switch config:
vl10 is the batman-adv "uplink over wifi 802.11s".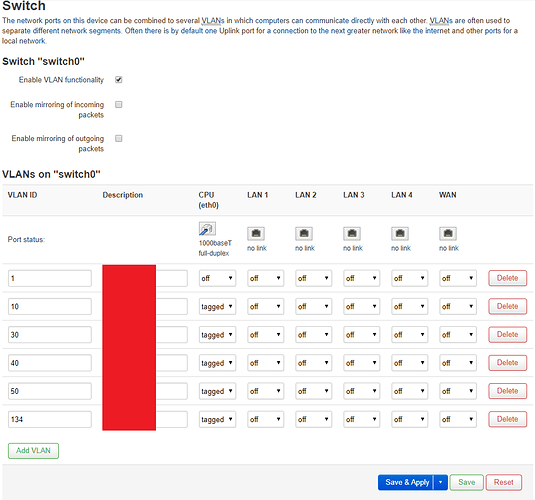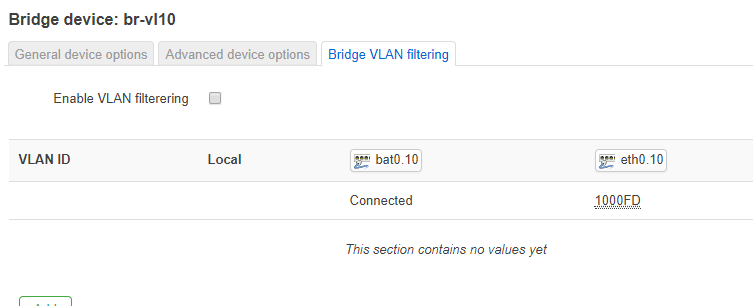 My setup is as follows:
(LAN, wired) == unit A (batman-adv, bridge between eth0.10 and bat0.10) == (WiFi 802.11s mesh) == unit B (batman-adv, bridge between eth0.10 and bat0.10) == (Second AP on another radio for clients)