Hi,
I recently bought ASUS RT-AX1800U (AX53U), which seemed to be perfect for batman-adv mesh network.
So I made image through OpenWRT Firmware Selector with not to much changes (
22.03.5 ). wpad-basic-wolfssl changed to wpad-basic-openssl, luci, luci-ssl, batman-adv.
After flashing image into device it works fine and all... But Wireless "Tab/Option" is missing. I tried to find help here on forum, but there was no resolution.
Can't upgrade packages too, for some reason.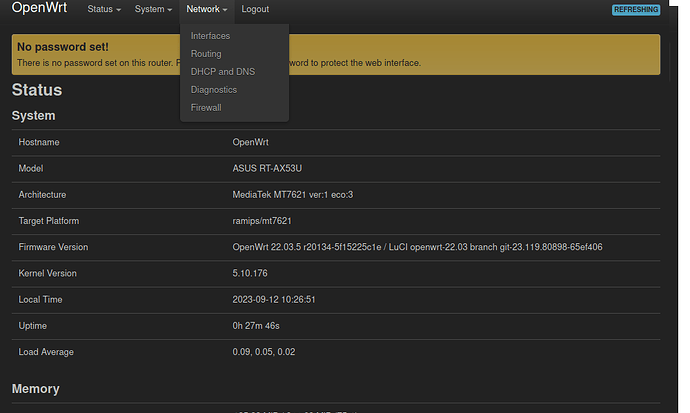 Also I've tried to use "SNAPSHOT", and this one works well, there is Wireless "Tab/Option" in LuCI menu, but WAN port doesn't work. WAN port show "no link" on LuCI interface.
So, my conclusion is that device does work, and pretty much well. But there are issues with OpenWRT Software itself and it's packages.
Can I please for any help?
root@OpenWrt:~# wifi detect > /etc/config/wireless 
WARNING: Wifi detect is deprecated. Use wifi config instead
For more information, see commit 5f8f8a366136a07df661e31decce2458357c167a
root@OpenWrt:~# wifi config
root@OpenWrt:~# ifconfig
br-lan    Link encap:Ethernet  HWaddr C8:7F:54:DF:C5:50  
          inet addr:192.168.1.1  Bcast:192.168.1.255  Mask:255.255.255.0
          inet6 addr: fd1a:d8b3:a44e::1/60 Scope:Global
          inet6 addr: fe80::ca7f:54ff:fedf:c550/64 Scope:Link
          UP BROADCAST RUNNING MULTICAST  MTU:1500  Metric:1
          RX packets:125180 errors:0 dropped:0 overruns:0 frame:0
          TX packets:180545 errors:0 dropped:0 overruns:0 carrier:0
          collisions:0 txqueuelen:1000 
          RX bytes:7839440 (7.4 MiB)  TX bytes:292188181 (278.6 MiB)

eth0      Link encap:Ethernet  HWaddr C8:7F:54:DF:C5:50  
          inet6 addr: fe80::ca7f:54ff:fedf:c550/64 Scope:Link
          UP BROADCAST RUNNING MULTICAST  MTU:1504  Metric:1
          RX packets:357854 errors:0 dropped:0 overruns:0 frame:0
          TX packets:352202 errors:0 dropped:0 overruns:0 carrier:0
          collisions:0 txqueuelen:1000 
          RX bytes:304819820 (290.6 MiB)  TX bytes:307089003 (292.8 MiB)
          Interrupt:21 

lan1      Link encap:Ethernet  HWaddr C8:7F:54:DF:C5:50  
          UP BROADCAST RUNNING MULTICAST  MTU:1500  Metric:1
          RX packets:125354 errors:0 dropped:0 overruns:0 frame:0
          TX packets:180548 errors:0 dropped:0 overruns:0 carrier:0
          collisions:0 txqueuelen:1000 
          RX bytes:7848756 (7.4 MiB)  TX bytes:292188447 (278.6 MiB)

lan2      Link encap:Ethernet  HWaddr C8:7F:54:DF:C5:50  
          UP BROADCAST MULTICAST  MTU:1500  Metric:1
          RX packets:0 errors:0 dropped:0 overruns:0 frame:0
          TX packets:0 errors:0 dropped:0 overruns:0 carrier:0
          collisions:0 txqueuelen:1000 
          RX bytes:0 (0.0 B)  TX bytes:0 (0.0 B)

lan3      Link encap:Ethernet  HWaddr C8:7F:54:DF:C5:50  
          UP BROADCAST MULTICAST  MTU:1500  Metric:1
          RX packets:0 errors:0 dropped:0 overruns:0 frame:0
          TX packets:0 errors:0 dropped:0 overruns:0 carrier:0
          collisions:0 txqueuelen:1000 
          RX bytes:0 (0.0 B)  TX bytes:0 (0.0 B)

lo        Link encap:Local Loopback  
          inet addr:127.0.0.1  Mask:255.0.0.0
          inet6 addr: ::1/128 Scope:Host
          UP LOOPBACK RUNNING  MTU:65536  Metric:1
          RX packets:1039 errors:0 dropped:0 overruns:0 frame:0
          TX packets:1039 errors:0 dropped:0 overruns:0 carrier:0
          collisions:0 txqueuelen:1000 
          RX bytes:82785 (80.8 KiB)  TX bytes:82785 (80.8 KiB)

wan       Link encap:Ethernet  HWaddr C8:7F:54:DF:C5:50  
          inet addr:10.1.27.125  Bcast:10.1.27.255  Mask:255.255.255.0
          inet6 addr: fe80::ca7f:54ff:fedf:c550/64 Scope:Link
          UP BROADCAST RUNNING MULTICAST  MTU:1500  Metric:1
          RX packets:232500 errors:0 dropped:1334 overruns:0 frame:0
          TX packets:120013 errors:0 dropped:0 overruns:0 carrier:0
          collisions:0 txqueuelen:1000 
          RX bytes:290529692 (277.0 MiB)  TX bytes:8666468 (8.2 MiB)

root@OpenWrt:~# uci show wireless