The attached image shows the current network topology I have configured at home.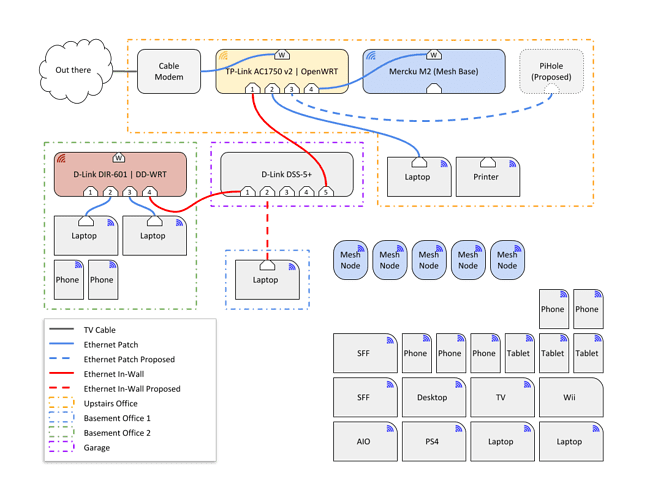 For reasons beyond my grasp, the TP-Link AC1750 periodically loses its internet connection.
During these outages LuCI remains responsive. On the overview page the IPv4 and IPv6 links appear to be active. Traffic on the various interfaces drops but the CPU load stays up.
Since everything looks normal in the UI I'm not sure what kind of errors to look for or how to begin troubleshooting the problem. I've already re-flashed OpenWrt
I've skimmed the system log looking for clues but I'm not really sure how to read it. I'm happy to post bits here if it will be of help.
Other notes:
The same router (running a slightly older version of OpenWrt) was previously in use with a DSL modem with no issues.
I applied SQM following the instructions at https://openwrt.org/docs/guide-user/network/traffic-shaping/sqm (this caused a 10MBPS slowdown of my downstream speed and a commensurate increase in my upstream, but that's a topic for another thread).