Hello!
I'm very new to OpenWRT, just installed it on my TP-Link Archer A7 yesterday.
I installed 3 services, configured WAN to be PPPoE since I'm using this device as a router.
Here's my interface configuration (I didn't change anything except WAN, the greyed-out WAN_6 Virtual Dynamic Interface appeared on its own after some restarts)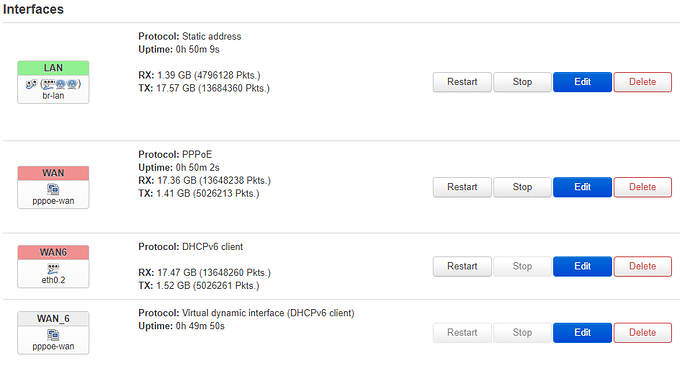 I'm unsure why I'm getting slow speeds, now that I've installed OpenWRT:
On Ethernet, I used to get 500mbit/s - 700mbit/s, now I get 150mbit/s - 300mbit/s.
On Wi-Fi, I used to get 250mbit/s - 350mbit/s, now I get 70mbit/s - 100mbit/s (on 5Ghz)
Any help's appreciated!