Hello and welcome to the 1.000.000 thread of a noob asking for help!
As stated in the topic above, I'm suffering from not being able to set up my Alix 2D13 with openWrt properly. Until now, I'm using a Fritzbox 7320 which should be replaced by the openWrt router. Since 1&1 is charging customers a fee for multiple connections, the Fritzbox had to be replaced with an Draytek Vigor 130 in Modem "only" setup, which has been well described by iDomix youtube channel. I did all necessary changes that arise from his VDSL setup in comparison to my ADSL2+ connection.
The setup of the of the Draytek looks the following: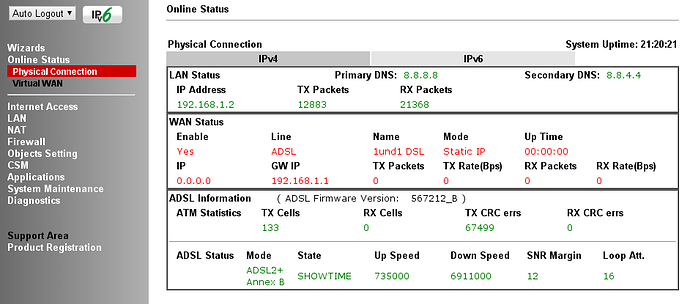 For the openWrt setup, I'm confused which settings I have to adopt. The majority of the threads here and elsewhere do not cover ADSL2+ setups, since VDSL/VDSL2 connections are more popular nowadays. Sadly, I'm not able to get any faster connection in my house. Those ADSL descriptions I found on the internet are often dating back 10 years or more. I'm asking myself if the development of openWrt cover up some of the setup work. Additionally, some connection types have undergone technical changes and may not be applied in openWrt like 10 years ago.
My question: Can anyone who has a similar connection with 1&1 in Germany or a similar setup with an ADSL2+ connection provide a helping hand to me? I'm updating this thread with my current openWrt and more pics of my Vigor 130 settings shortly.
Kind regards and a nice weekend to everyone here
Dennis