Edited to provide useful links
Original content
I saw an existing pull request for the Ctera C200 v1, and became interested in the device. It appears the devices are EoL and are slowly being sold off.
I purchased two, but upon disassembly discovered they are not Ctera C200 v1, but rather, v2, or so I interpret: the model number is 'CT-C200-2'; the SKU is 'CTERA-EC200', as seen for example in this photograph: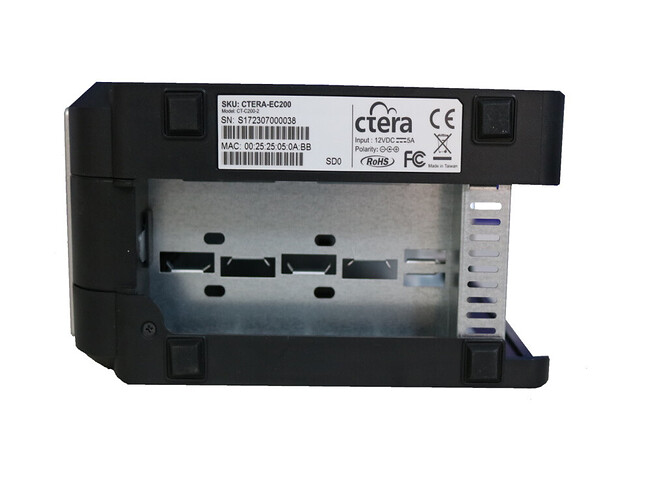 I disassembled and took some photographs:
Then, I connected to the serial cable (starting from the pin pointed to by the silkscreen carat, the serial pinout is: VCC, RX, TX, GND, as with most Marvell boards).
Upon boot, I got these messages:
BootROM 1.08
Booting from NAND flash
High speed PHY - Version: 2.1.2 (COM-PHY-V20)
mvBoardSerdesModulesScan: mvTwsiRead erro serdes to default ****High speed PHY - Ended Successfully
                   DDR3 Training Sequence - Ver 4.4.0
DDR3 Training Sequence - Ended Successfully
Status = MV_OK
BootROM: Image checksum verification PASSED


U-Boot 2011.12-g29cf28a (Nov 17 2014 - 17:13:47) Marvell version: v2011.12 2013_Q1.0p2

Nanya-DDR
ESMT-2GB-NAND
   ** CTera BootCode: 3, CTera Board: 2Drive_A **
Board: DB-88F6710-BP
SoC:   MV6710 A1
CPU:   Marvell PJ4B v7 UP (Rev 1) LE
       CPU    @ 1000 [MHz]
       L2     @ 667 [MHz]
       TClock @ 200 [MHz]
       DDR    @ 667 [MHz]
       DDR 16Bit Width, FastPath Memory Access
DRAM:  1 GiB