I have an GL-X750v2 (c6-e) Router (4g modem).
In Germany it works fine, i set it up so once disconnected it will reboot and all fine.
Now i moved it to Greece and wifi works but no internet/4g working.
Connectivity/coverage is fine, roaming is activated on the simcard in general
How do i activate it on the openwrt setting/conf?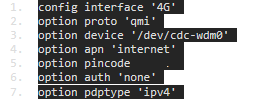 Thanks.for your help