Does it support wrt3200acm because I read it doesn't support wpa3
WPA3 is not working with mwlwifi and its firmware, that is not fixable from OpenWrt's side, but a 'hardware' restriction (well, it would need a fixed firmware blob from NXP). That doesn't mean OpenWrt won't work on this device (up to WPA2), just WPA3 doesn't and probably never will.
Can we please agree on the following?
A new OpenWrt release can be called "released"
when an official announcement from the OpenWrt developers has been made
when the new release appears on https://downloads.openwrt.org/ under "Stable release" / "Old stable release", together with a release date
A new OpenWrt release can not be called "released"
when the new release has just been tagged
when the buildbots are still building
when there has not yet been any official announcement by a core OpenWrt member
There is always the chance that something goes terribly wrong during the build.
Premature "release announcements" by someone else than the core OpenWrt members give a wrong impression to our users, which we should avoid.
Therefore, please be patient, wait for the official announcement, and refrain from calling the new release as "released" while it isn't.
Thanks for your understanding.
Have fun with the soon to be released 19.07.4
Maybe not the right place to post this, so moderators feel free to move this somewhere else.
Seems like the 19.07.4 release breaks the VLAN functionality on my Zyxel NBG6617.
I initially tested this on my production system and had trouble reconnecting after the 19.07.2 to 19.07.4 upgrade.
Here's my VLAN Table: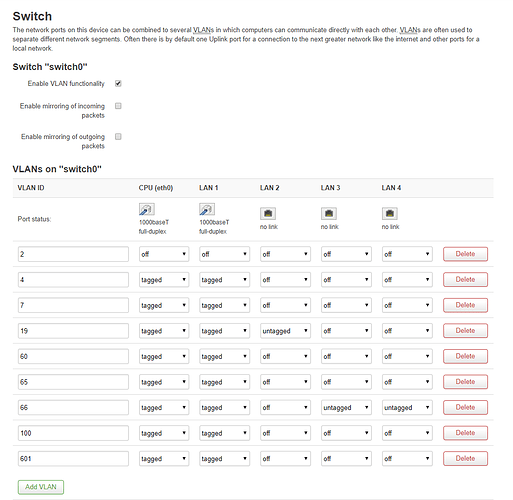 I then downgraded back to 19.07.2 and everything was fine again.
The Zyxel only connects with tagged VLANs to another managed switch, but the untagged ports on VLAN 66 didn't work either and I couldn't get access to the Router.
Later today I will start a thread with more detailed findings, but it seems that this behavior was introduced somewhere between 19.07.3 and 19.07.4, since I tested a similar setup on a spare device with various versions of 19.07.*.
I remember seeing a page where the buildbots progress could be monitored, but I can't find that now.
Is that progress page available for those of us that like to watch paint dry?
Excellent! Thank you.
19.07.4 installed with config wipe on my WRT1900ACS. (I wanted to start over with a fresh config.)
No issues except for some reason the 2.5 and 5 GHz wireless guest interfaces were not bridged in the guest network during setup with LuCI. This may be a new normal and I've added checking this to my own setup procedure.
same here so for now i'm back to 19.07.3
Snapshots are only built off the master (development) branch.
Add Linksys EA6350 to the list also
Eh? There's plenty of them in 19.07. I have two myself actually (RT-AC57U v1 and DIR-860L B1). And a DIR-878 A1 that's only got official master support. Remember, support isn't backported from master to stable releases except in very specific cases (identical to existing device in a stable release e.g.).
Are all the builds done yet fo (all seem dated 09/08/2020 so 2 days ago) ?
I ask because I was looking for re450v1 in ath79 but can't find it (was expecting it to be available as re450v1 has the ar71xx-ath79 target).
I am new to openwrt so maybe I missunderstood what I read on ar71xx-ath79.
Regards
I didn't say all of them, check https://downloads.openwrt.org/snapshots/targets/ramips/mt7621/ so many devices been there for a while now and didn't make it to 19.7.4 like the EA7500 v2 in our case.
I think you are confused, we weren't talking about if a device is supported by OpenWrt or not we were talking about a device image moving from development phase (snapshot) to a stable release image (19.07.4) your DIR-878 A1 and the EA7500 v2 are still in snapshot phase which means they are still in development which means there is no official support for them yet. in fact they warn you against using snapshots unless you are the experimental type cause snapshots might render your device nonfunctional.
Check this link please https://openwrt.org/faq/difference_between_a_release_and_a_trunk_build
Check the release notes please https://openwrt.org/releases/19.07/notes-19.07.4
Known issues

    Transition to ath79: some devices that are supported in ar71xx are not yet supported in ath79: this is a community effort. Helping to port devices to ath79 to make them available in future releases is very welcome.