Using OpenWrt 19.07.2
Router Xiaomi Router 3G (mir3g)
Issues with 5GHz :
Getting 5GHz to work is a hit or miss
Region, random European Union country, for example Estonia (country code EE)
Only a limited number of 5GHz channels are working.
Selecting channel 136 + save&apply marks it active as channel 36.
Luci shows in Network > Wireless Channel 36
Clicking Edit on the 5GHz device, shows channel 136
Drop-down menu shows channel 136
If I select country code as DE, then a long list of channels are available. Much more than country code EE.
This clearly is a bug. I think in the driver, perhaps.
All European Union countries should have the same 5GHz channels available.
Furthermore, if the country code is EE, then the below command in CLI does not work:
root@OpenWrt:~# iw dev wlan1 scan
command failed: Resource busy (-16)

Scanning of 5GHz networks also does not work from Luci.
If the country code is DE, then the same command returns a long list of data and 5GHz network scan works, even from Luci.
Same in country code FI (Finland) and AT (Austria). The selection of 5GHz channels should be equal, but Finland has bigger selection.
To be clear, this issue with 5GHz has been present in all OpenWrt versions that I have used. With many different routers.
I have now experimented with different country codes, and 5GHz channel 165 does not turn on under any country codes. It can be selected, but it stays gray and disabled until the channel is selected one notch below 165. For example 161.
In European Union, there are EC Directives that regulate the usage of WIRELESS, which are the same regardless of which EU country you live in.
A screenshot: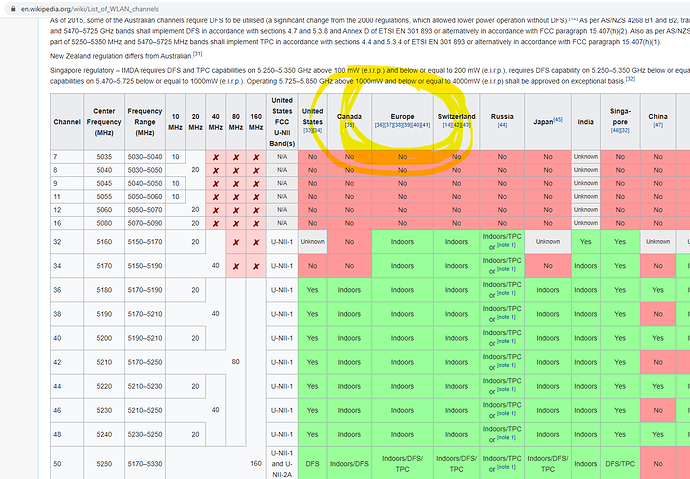 So, if I change from one EU country to another, this is the same as changing region from California to Texas.
It should not change anything. And why is the list of available channels different inside EU?
According to EC Directives, the WLAN regulations do not differ from one EU country to another no more than changing the region from California to Texas.
But in OpenWrt, it differs.
The wireless regdb that gets used by OpenWrt to set the radio parameters in accordance with national rules is incorrect in many cases.
Here is another post, with specifics for UK.